The History of the FDIC (a 5-part series) Part 1
The vast majority of individuals are aware that their money in checking and savings accounts is protected by the FDIC; nevertheless, very few are aware of the organization's history, functions, or the motivations for its founding. The crash of the stock market in 1929 was a direct cause of the establishment of the Federal Deposit Insurance Corporation (FDIC) in 1933. The FDIC is continually on the lookout for innovative new strategies to protect depositors in the event that a bank fails. The next paragraphs contain additional information regarding the federal organization as well as some of the accomplishments that it has attained.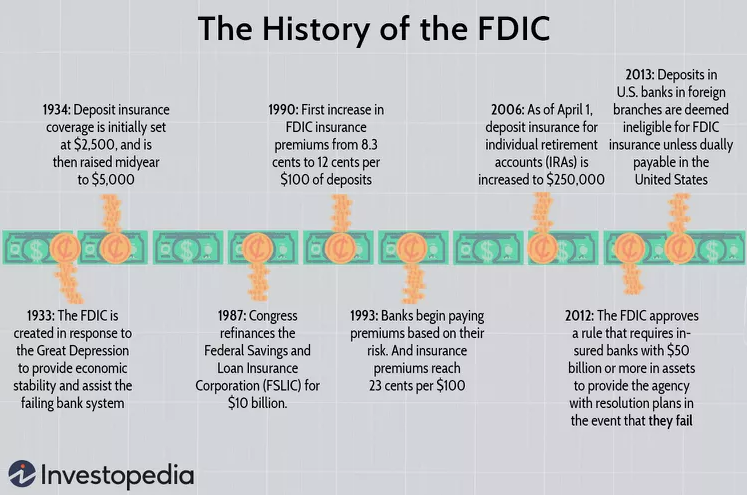 The Beginning of the FDIC
Beginning in the early 1930s, America's financial markets were in ruins. The stock market crash of October 1929, which began the worst economic depression in modern history, caused financial chaos that led to the failure of more than 9,000 banks by March 1933.
In March 1933, President Franklin D. Roosevelt addressed Congress, saying:
"On March 3, banking operations in the United States ceased. To review at this time the causes of this failure of our banking system is unnecessary. Suffice it to say that the government has been compelled to step in for the protection of depositors and the business of the nation."
Congress passed the Emergency Banking Act of 1933 to protect bank depositors. This is how the Federal Deposit Insurance Corporation (FDIC) came to be. In order to stabilize the economy in the face of a failing banking system, the FDIC was established. The Glass-Steagall Act of 1933 made the deposit insurance program that had been started in Massachusetts official. This is how the FDIC came to be. Checking and savings deposits up to a certain amount are guaranteed for its member banks.
If you have a preferred agent to work with, let us know and we will forward your information to them. If not, we will happily introduce you to one of our qualified agents to assist you in the buying or selling process.
Please fill out the form and you will receive an email from us. If you do not get the email in the next 5 minutes, check your spam/junk folder.