The living room is often the focal point of your home, especially if you are fond of entertaining guests. However, you may wish for a larger space to accommodate visitors, or perhaps you would like a fresh look. While you may not be able to make your living room bigger physically, there are ways to give the illusion of a much larger space through the use of furniture, color, and decorations. This blog will give you tips to visually trick you and your guests into believing your living room is larger than life. 
Color can be used in clever ways to trick the eye into making something appear larger or smaller than it is. In the case of expanding a room, interior design expert, Emma Kemper, recommends using bright, light neutral colors for your walls. Neutral colors like whites, light creams, and soft grays create what Kemper calls the "illusion of expansion." If you prefer a more colorful approach, try using tints of a breezy blue or sage green, but only as an accent wall. When all of the walls are painted a non-neutral color, our eyes perceive the room as being smaller, rather than larger when the entire room is painted a neutral color.
Glass can create the illusion of light, which allows your space to appear much larger than it is. If you want to maximize your space, Kemper suggests swapping your furniture that has solid cabinet doors, with furniture that has glass doors. A glass credenza, or cabinet, is wonderful for creating this illusion, however, you must be wary about the display contents, as too many items can cause clutter and diminish the illusion. Displaying your knick-knacks in a systematic and minimalist manner will keep look light. Another option for glass furniture is a glass-topped coffee table, as the light will bounce off the surface and allow the space to appear larger. While a beautiful addition to your living room, note that glass coffee tables are not the best option for homes with young children and pets.
Change the Window Treatments
Windows are the eyes of the home, so it only makes sense that you can use them to your advantage to bring extra light, and space, to your living room. Avoiding heavy drapes can maximize the amount of natural light that enters your home, while also maximizing the illusion of a larger room. If you are concerned with privacy and keeping the heat out, a solution is using window clings that are temporarily applied to the windows. Window films and clings work to diffuse sunlight so the light is less harsh but still appears in the home.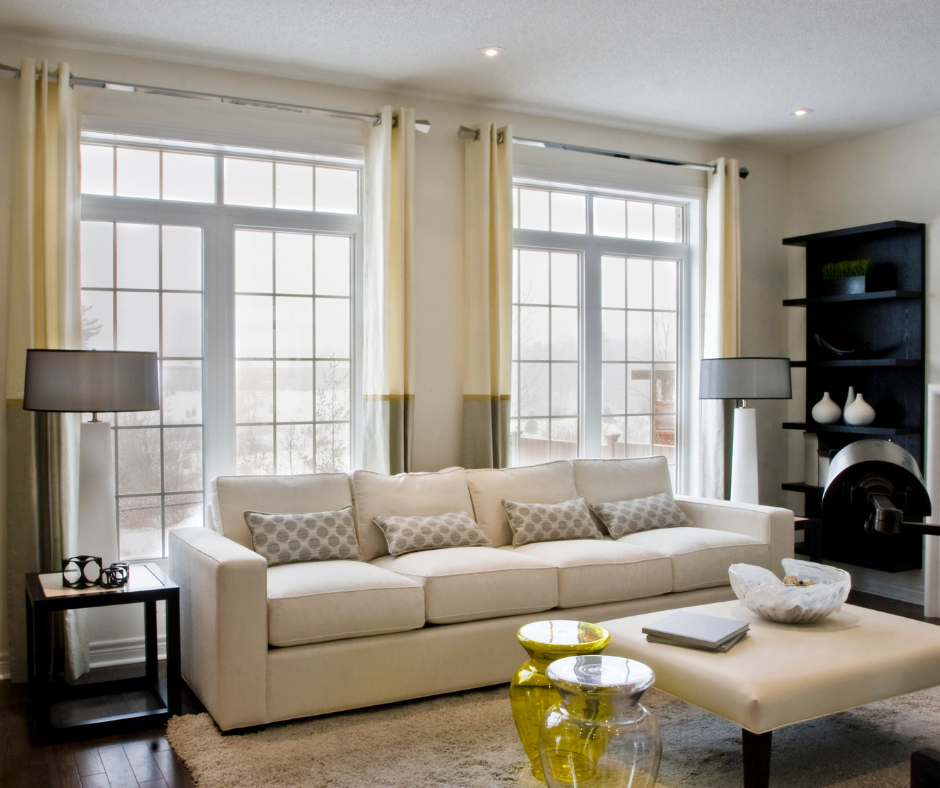 Get Rid of Heavy Furniture
According to Kemper, primarily using heavy pieces of furniture can quickly "consume a lot of space from your floor plan." You can make your space feel larger by slimming down on the number of furniture pieces on the floor of your living room. A great solution to this is using decor and furniture that sit on the wall, such as floating shelves. These shelves allow for decoration opportunities while maximizing the amount of space on the floor. You can also take inspiration from the minimalist trend by finding couches and end tables that are simple and light in weight. Finally, evaluate the amount of furniture in your space and eliminate pieces that you seldom use or find in the way of daily living; this could be a floor lamp or an end table that is simply taking up valuable space.
If you have a preferred agent to work with, contact us, and we will forward your information to them. If not, we will happily introduce you to one of our qualified agents to assist you in the buying or selling process.
Please fill out the form and you will receive an email from us. If you do not get the email in the next 5 minutes, check your spam/junk folder.