Today's Housing Market Is Nothing Like 15 Years Ago
Despite the obvious differences between the current housing market and what occurred in 2008, Lawrence Yun, Chief Economist at the National Association of Realtors, found some similarities between the two. In a recent Real Estate Forecast Summit, Yun compared key variables between today's market and the last cycle, highlighting how they differ. While conditions today may be on the rebound from a significant downturn, Yun believes there are enough parallels to warrant continued caution.: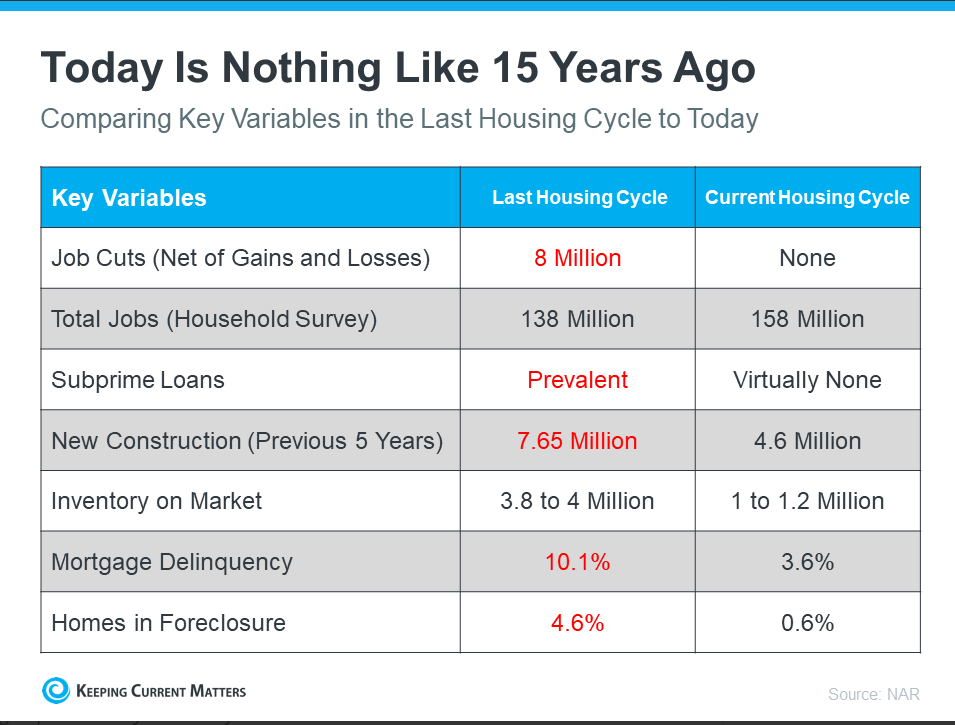 Looking at the statistics, it is obvious that the housing market today is considerably different from that of 15 years ago.
Today, there are opportunities in real estate.
Additionally, there is a chance right now in the market due to increased inventory and reduced competition from other purchasers. Former Assistant Secretary of Housing David Stevens stated: "So be advised…this may be the only window for the next few years to enter into a buyer's market. And keep in mind that, regardless of how mild or severe a recession is, home prices usually increase and bounce back after one. Long-term homeowners should consider this market as a rare buying opportunity right now.
The housing market of today is very different from that of 15 years ago. This might be the opportunity you've been waiting for if you're a buyer right now.
If you have a preferred agent to work with, let us know and we will forward your information to them. If not, we will happily introduce you to one of our qualified agents to assist you in the buying or selling process.
Please fill out the form and you will receive an email from us. If you do not get the email in the next 5 minutes, check your spam/junk folder.